Also known as The Serenissima, short for The Most Serene Republic of Venice which refers to its most splendid years, the outpost of the Eastern European world is today an open-air museum that attracts tourists from all over (so much so that it is the second largest city most visited Italian, after Rome). Here we are talking about an artistic project that involved our reality in the Venetian capital, a tireless destination of every anthropological type.
A restoration work is not only a technical virtuosity, but also symbolically a way to recover and re-value the past by bringing it into the contemporary context, through innovative, sometimes technological tools. In 2016 PLANIUM was the protagonist of the restoration of the Magnificent Scuola Grande of Santa Maria della Misericordia by the architect Alberto Torsello. Calamine steel was laid on the floor of this historic place using the PL01 Invisible dry system. Calamine is a metal that is obtained from a hot oxidation of steel: it is in shades of blues, grays, blues, and petroleum colors. In this case, its use was purposely designed in accordance and aesthetic harmony with the place in charge which, mind you, is not a Church as its name might suggest. It was in fact a building for the lay Confraternity (at the time called the "School") of the Flagellants, active from the late Middle Ages (1308) to the late Modern Age (1806).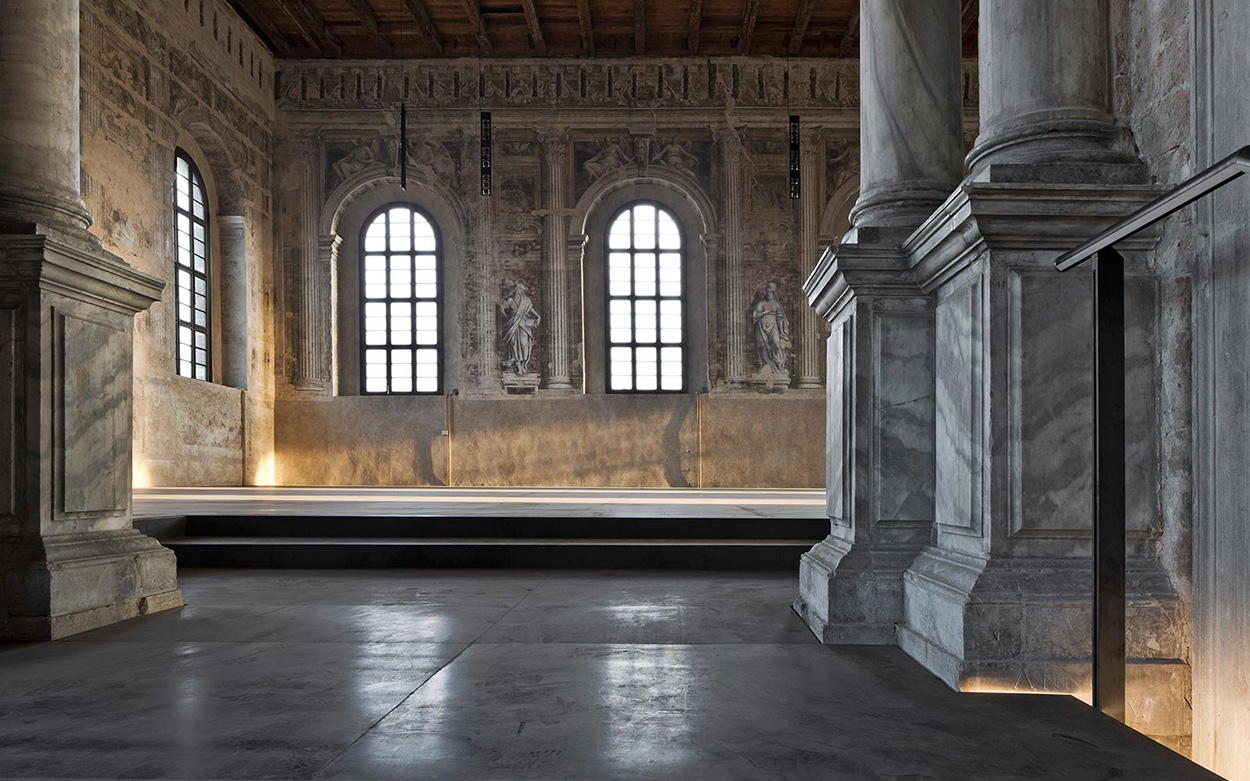 Arch. Torsello himself predicted that "The floor should first and foremost be the frame of all that is the historical stratification of the Palazzo", thus confirming the targeted choice of Calamine, which was perfectly in scale with the history and aesthetics of the building. Great School.
Today this building is neither inert nor relegated to the mere "museum" dimension but rather it strongly participates in the present, having become a point of reference for exhibitions, cultural events, corporate events.
The surface oxidation accelerated by the lagoon climate has made the already dark tones of Calamine warmer and coppery, creating a further chromatic effect of complicity between the exteriors and the interiors and dramatically marking the importance of the floor, all in the spectacular setting architecture and art of Venice in the historic Cannaregio district, the second largest in the city.