Ducasse sur Seine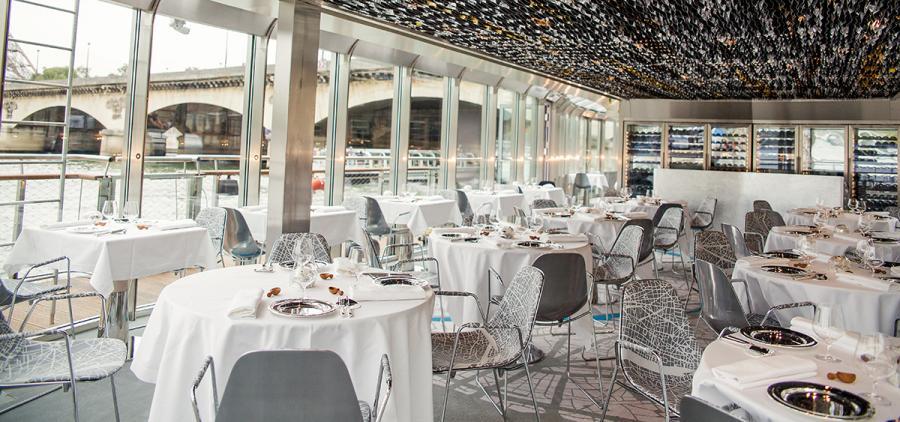 31
Ott
Italian Design for the New Ducasse Restaurant on the Seine
Sail on the Seine, admire the Eiffel Tower tasting the creations of the starred chef Ducasse ... since last September all this is possible on board a bateau mouche, which is a wonderful floating restaurant, where lunch and dinner, created by the renowned chef, are served.
The most awaited Parisian gourmet restaurant of the rentrée is the largest electric boat in the world (300 tons, 38 meters long and 10 meters wide. Like the façade of the baroque cathedral of Borromini, from which the architect Gérard Ronzatti's project took inspiration, the bateau floats on the waters of the Seine in a game of transparencies.
The "waves" on the ceiling, that recreate the transparencies and movements of the waters of the Seine, have been realized by our company Terenzi S.r.l, with particular involvement of the area of light Carpentry. They are made of silvery and golden pre-finished aluminum, thickness 0,5 mm. The plates were mounted on a polished metal mesh, electro-welded with small parts of assembly always of polished metal, taking care of every detail up to the desired perfection.

"Alain Ducasse, with this new singular location, wishes to offer all the refinement of French cuisine, in perfect harmony with the beauty of the places. Furniture and dishes of Ducasse sur Seine, on the other hand, bear an Italian label, that of the designer Maurizio Galante, who together with the designer Tal Lancman, interprets the timeless and typically Parisian style of this place on the water. Shades on gray, he explained, to reawaken the facades of the Haussmanian palaces, chairs and carpets on which the stylized maps of the city are intertwined as a graphic pattern. And on the plates, the Notre Dame rosette in filigree and the reproduction of a 15th centrury lace found in a museum. Even the clothes of the staff were designed by Galante, in a gray hue harmonized with the environment ", (Silvia Manzoni, 17/09/2018 esquire.com).
Cfr. www.esquire.com/it/lifestyle/food-e-drink; Cfr. www.stream24.ilsole24ore.com/foto/viaggi/ducasse-sur-seine