MR01 MODULO RADIANTE
Among the innovations pioneered by Planium in recent years, there is a project that makes a story in itself, very sophisticated in its design, centered on the theme of climatic comfort. In this case we are talking about MR01 Modulo Radiante.
It can be installed in any building setting, MR01 Modulo Radiante is a raised floor with hot/cold hydronic radiant system integrated into the modules, whose elevation function allows the underlying cavity to be inspected. The finishes, that can be adapted to the raised floor, can be of any metal and with textures of 600x600 mm size to maintain the inspectionability referred to above.
In this project, the distribution of heat or cooling is homogeneous. It is a floor system that already embodies the principle of rational use of energy sources and the achievement of high technical performance.
Its modular nature is combined with the client's choice to opt for a finish among those of the catalog proposed in a wide range: essential Steels, Calamine, Copper and its alloy, Brass.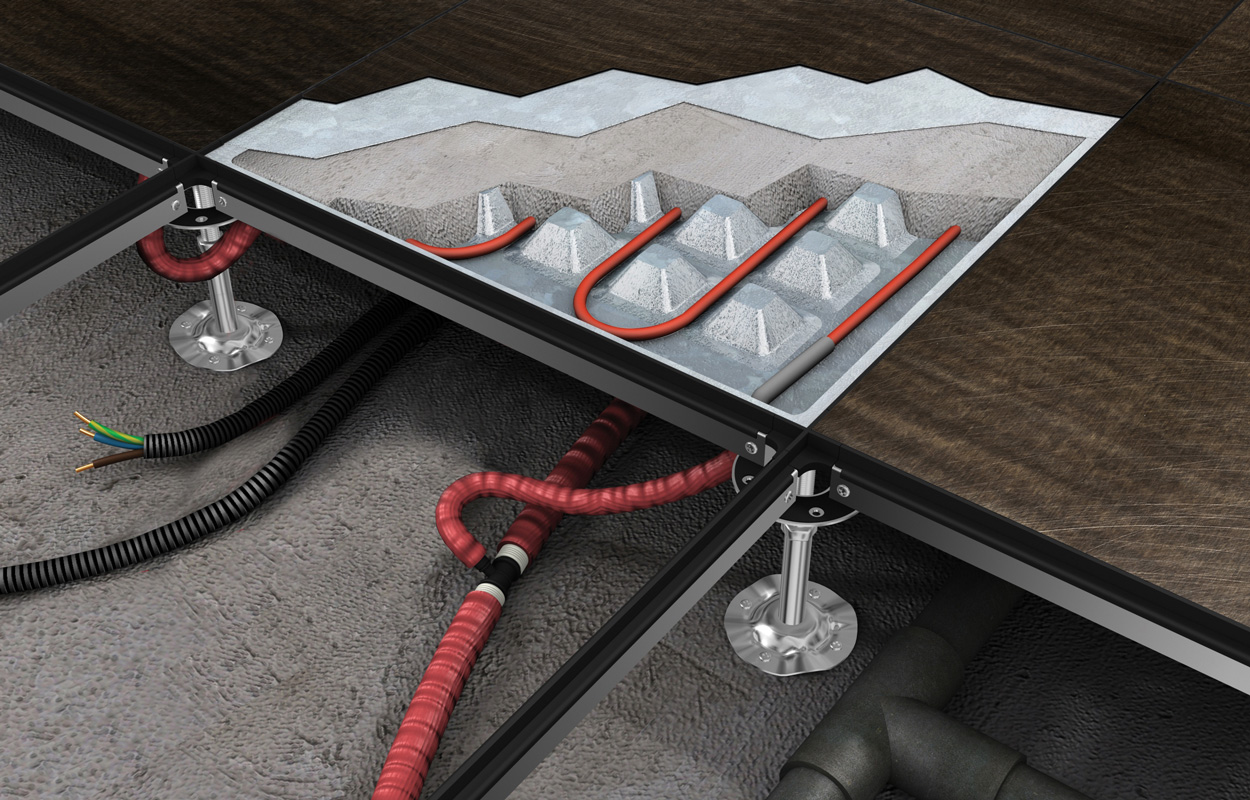 MR01 Modulo Radiante is a product characterized not only by a technological avant-garde, but also by an aesthetic sense that goes in a functionalist direction. We must not think that the complexity of the system or its technicalities make installation difficult, quite the contrary. An example is the fact that Planium has installed MR01 Modulo Radiante in very different contexts, sometimes in historical-artistic scenarios, such as the Roman church of Saint Andrew of The Scots, or in projects of an experimental, scientific nature: such as in the case of I-ZEB. A project born in 2016 with the Regione Lombardia and the CNR in the name of "green", with Planium at the head of the project and which also involved private companies; at the center of the initiative is the focus of MR01 Modulo Radiante, or rather the search for climatic comfort to be obtained with low energy expenditure. The Calamine finish was specifically chosen for this setting because, as said before, all the metal textures are applicable to the Modulo Radiante; ideal for offices due to its reversibility, and therefore its inspectionability, Modulo Radiante was also installed by Planium for the Cassa di Risparmio di Salorno project and for the Q8 headquarters in Milan, demonstrating its character of compatibility for offices.